Inpatient Medical Service
Resident Inpatient Service (RIS)
The Resident Inpatient Service (RIS) is the principal inpatient medicine teaching service at ZSFG. ZSFG is one of the three main teaching sites for the UCSF School of Medicine and the Internal Medicine residency program. RIS is staffed by UCSF faculty, residents, interns, acting interns and medical students with support from clinical pharmacists. The RIS cares for approximately two-thirds of medicine service inpatients and is one of three core inpatient rotations at ZSFG for students and residents.
The Resident Inpatient Service is composed of 5 day teams, a swing resident and a night team. Each of the day teams includes an attending, a senior resident, two interns and up to one acting intern and two third-year medical students. The night team includes an admitting resident, a cross-cover intern and up to one admitting intern.
The Division of Hospital Medicine is responsible for overseeing clinical care and providing medical education for 3 of the 5 day teams. All hospitalists attend on RIS for 4-8 weeks per year. DHM faculty hold leadership roles in the residency program and have won numerous teaching awards from medical students and residents. The ZSFG medicine inpatient rotation is traditionally one of the highest rated rotations for both students and residents, who value the opportunity to care for patients with a broad variety of inpatient diagnoses and learn the principles of caring for vulnerable populations.
Please direct any questions to Dr. Beth Harleman, Vice Chair of Medicine ([email protected]) or Dr. David Chia, Site Director of the Internal Medicine residency program ([email protected]).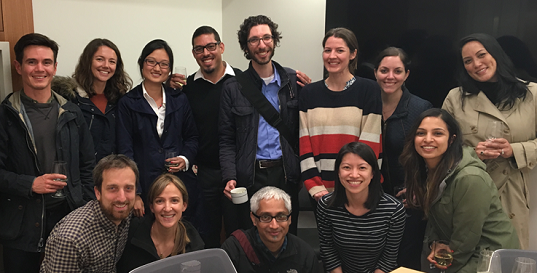 Faculty Inpatient Service (FIS)
The Faculty Inpatient Service (FIS) is the Division of Hospital Medicine's direct care inpatient service. FIS is staffed by attending hospitalists with assistance from nurse practitioners, and is responsible for providing around-the-clock oversight of the inpatient medicine service. The FIS directly cares for approximately one-third of medicine service inpatients, and provides comanagement support to the Orthopedic Surgery service and general medical consultations for all other clinical services throughout ZSFG. The FIS also cares for all hospitalized COVID-19 ward patients.
The Faculty Inpatient Service is covered by six hospitalists over three shifts. The day shift consists of three hospitalists providing direct patient care, supported by two nurse practitioners, and one hospitalist providing consultative and co-management support. The swing shift consists of one hospitalist that is responsible for triaging, admitting new patients, cross-covering existing patients and providing in-house attending support for on-call residents. Lastly, the night shift consists of one hospitalist, who supervises the overnight residents and provides admitting and cross-cover services. All faculty hospitalists rotate on the FIS day and swing services, and dedicated nocturnists cover most night responsibilities.
The core tenets of the service include providing high value care to our underserved patient population, establishing strong interdisciplinary relationships, and leading quality improvement initiatives to enhance the environment we practice in and the experience we share as clinicians. Finally, we aim to learn and educate ourselves and others regarding the social determinants of health and how we can better support our patients within the safety net of the city of San Francisco.
Please direct any questions to Dr. David Chia, Director of Clinical Operations ([email protected]) or Dr. Kelly Han, Associate Director of Clinical Operations ([email protected]).